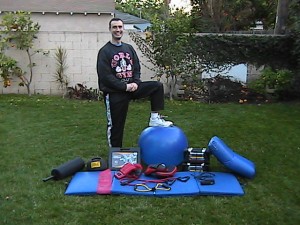 Troy is a highly respected personal trainer among all his clients. As a kid he was bullied for being small and skinny. That changed in high school when he started exercising regularly. A year later he joined a prominent gym in South Dakota and shared equipment with professional bodybuilders and powerlifters. Troy learned a lot from those bodybuilders; later, he actually began training them. In the first two years there, he gained 56 pounds of muscle, going from 125 to 181 pounds.
In 1992 Troy was in a terrible motorcycle accident. Doctors didn't think he would survive, but he did- a feat he attributes to his health and fitness. This experience changed Troy's life, and he developed a passion for helping others improve their lives through health and fitness. He's been training others actively ever since, and changed their lives through being healthy and fit.
In 1996 Troy became a gym owner in South Dakota. The facility was state of the art, and 10,000 square feet. It was in danger of failing when he took it over, and by the time he relinquished control he had built it into a successful business. So successful was this venture, that he began traveling the country performing similar tasks for other gyms that were in danger of closing their doors.
Since 2000 Troy has been training clients in their homes and local gyms.
"I strive for excellence in everything I do, and I train my clients as I train myself."
-Troy Knudson
NASM Certified Personal Trainer
NASM Certified Golf Specialist
NASM Certified Corrective Exercise Specialist
ACE Certified Personal Trainer
ACE Certified Lifestyle & Weight Management Consultant
CPR Certified
Vaccinated 3-12-21  Johnson and Johnson